We are pleased to announce that Japan Lifesaving Association was officially approved by the Cabinet Office as a Public Interest Incorporated Foundation on April 1, 2019.
Since 2001, we have promoted various programs focusing on supporting Lifesavers' activities and on administrating member clubs nationwide. Our goal is to contribute socially whilst spreading the concept of the sanctity of life in the areas of "Education", "Rescue", "Sport", "Environment", and "Welfare". To achieve our missions, these programs will be promoted to regional branches, and furthermore, as the Headquarters, our mission will be to promote the significance of our activities and importance of Water Safety Education to society overall, and to expand our activities and services.
We inherit the history of our organization and carry on with our activities that have been widely recognized in the past. We will move forward with clear identification of our new role, and with a range of activities and services that are with even more focused on the public interest.
With careful consideration and understanding of our role as a Public Interest Incorporated Foundation, we have reviewed our Vision and Mission to further meet our new role. In addition, we have set eight strategies to achieve this Vision and Mission in accordance with the "JLA Grand Design 2061" which was announced in 2015 and our mid-long term plan will be practiced continuously.
In recent years, we have been focusing on three main activities; Education, Rescue, and Sports. Especially I emphasize the importance of "Education". To accomplish a world "Free from Drowning", spreading Water Safety Education is the most important tool we have.  We believe that Education is the key mission which JLA should keep as its core role.
By knowing the characteristics of water, fully understanding the dangers that exist on the waterfront (beach, river, lake, pond, waterway, swimming pool, etc.), and learning how to safely "Swim and Survive" on your own, it will expand opportunities for people to safely experience and learn various water activities with ease.
As the basic idea of preventing accidents, it is essential to understand where risks exist and how it changes over time and conditions and to have the ability to safely respond to these risks especially during activities in natural environment.
JLA promotes education to acquire the skills, knowledge and ability to safely "enjoy the water while thinking and acting safely" and avoid dangerous situations in various aquatic environments.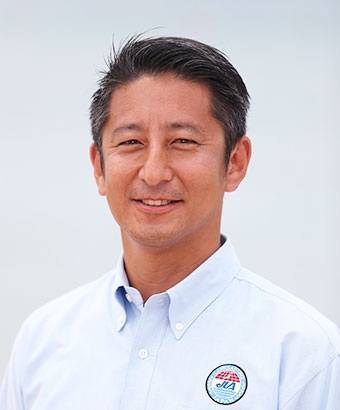 President – Japan Lifesaving Association
Takuya Iritani
Member of Sport Development 2006 - 2015
Japan National Team Manager RESCUE2010 / 2012 / 2014.
Vice President and General Manager of Lifesaving Sport 2012-2014
President 2014 -
Board of Directors of the Organization for Certification of Prehospital First Aid.